Unless you've been living under a rock, you are aware there's a deadly opioid epidemic sweeping the nation. Veterans are one group hit particularly hard by the opioid crisis. Veterans Affairs doctors prescribe synthetic drugs and the cocktails create chronic and lethal problems for the veterans taking them, including addiction, overdose, or complications for drug interaction.
There are about 19 million veterans in the United States. After they serve their country with pride and honor, many experience crippling mental and physiological disorders, with few resources available to help. Veterans suffer from physical and mental conditions, including anxiety, depression, PTSD, nerve damage, traumatic brain injury, chronic pain, amputations, and more.  You might make the logical assumption, though you'd be wrong, that veterans have access under the direction of a medical professional to decent and effective healthcare.
The Department of Veterans Affairs will not conduct research into the effects of medical cannabis on PTSD and chronic pain.
Despite pleas from congress, veterans, and the country's largest veterans service organization asking for research into medical marijuana, it was just revealed that the Department of Veterans Affairs won't initiate a study into the drug's effects on PTSD, VA Secretary David Shulkin wrote in a letter to House Democrats.
In October, the Democratic members of the House Veterans Affairs Committee wrote a letter asking VA secretary David Shulkin why his department is not conducting research into medical marijuana. In their request, Democrats cited the country's opioid crisis and the growing demand from veterans that want cannabis available as a treatment option for chronic pain and PTSD. People want to know, what's the holdup for the VA to initiate research into the efficacy of medical cannabis?

In a Dec. 21 letter to Minnesota Democrat Rep. Tim Walz, VA Secretary David Shulkin said that the department is unable to research medical cannabis due to federal restrictions.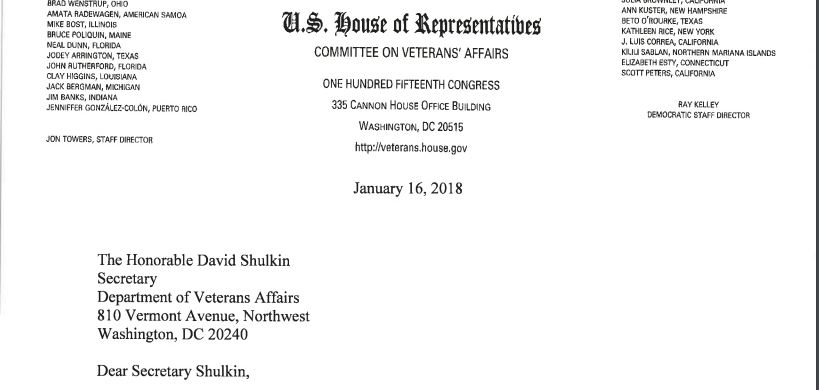 Shulkin's letter states that the VA is restricted from conducting research into medical cannabis, which is untrue. The VA also seems to demonstrate an extremely limited understanding of existing medical cannabis research being conducted around the globe.
Walz and other Democratic committee members note that in many states that have medical marijuana programs, cannabis is recommended for PTSD and chronic pain – conditions that regularly afflict wounded warriors. Medical marijuana is legal in 29 states plus the District of Columbia, Guam, and Puerto Rico. Several states also allow recreational use of marijuana.
To be clear, politicians are not asking Shulkin & Co. to start dispensing medical marijuana from VA facilities. Instead, they are asking why the department is not conducting research. (The department's long-held position that "to comply with Federal laws such as the Controlled Substances Act … providers are prohibited from completing forms or registering Veterans for participation in a State-approved marijuana program.")
However, in 2003, the U.S. Supreme Court let stand a federal ruling finding that doctors have a First Amendment right to recommend medical cannabis to patients, as long as they don't actually provide marijuana. In Conant v. Walters, the High Court affirmed the Ninth Circuit Court of Appeals, which concluded that the federal government could not punish, or threaten to punish, a doctor merely for telling a patient that his or her use of marijuana for medical use is proper.
The appeals court in Conant said doctors might not be investigated, threatened or punished by federal regulators for recommending marijuana as a medical treatment for their patients. As such, physicians have the right to discuss and recommend marijuana to their patients without fear of jeopardizing their federal licenses to prescribe drugs.
A well-regulated, legal substance is far better than an unregulated, illegal one. The official VA's stance as well as the Trump Administration's new directive rejecting the Cole memo means that more veterans will stay silent about their marijuana use and perhaps self-medicate. That's not an enviable situation.
President Donald Trump's administration rescinded the Cole Memo on Jan. 4, 2018 opening the door to a mass crackdown on activities that have been sanctioned by the states. U.S. Attorney General Jeff Sessions rejected Obama era guidelines that eased federal regulation of marijuana, and now the federal government is at war with marijuana.  The move by Sessions may result in legal action against marijuana businesses operating in states that have legalized it in some capacity. Repealing the Cole memo effectively gives prosecutors the right to bring charges against marijuana businesses and cannabis users.
We live in an era where politicians seem to rely on fake news, alternative facts, false information, incomplete analysis, and a lack of logic. Shulkin's response to the Democratic members of the House Veterans Affairs Committee mischaracterizes federal law and fails to place the medical marijuana question into proper context. American soldiers lives are at stake but the federal government doesn't seem to care.  The federal government better get ready for a fight.