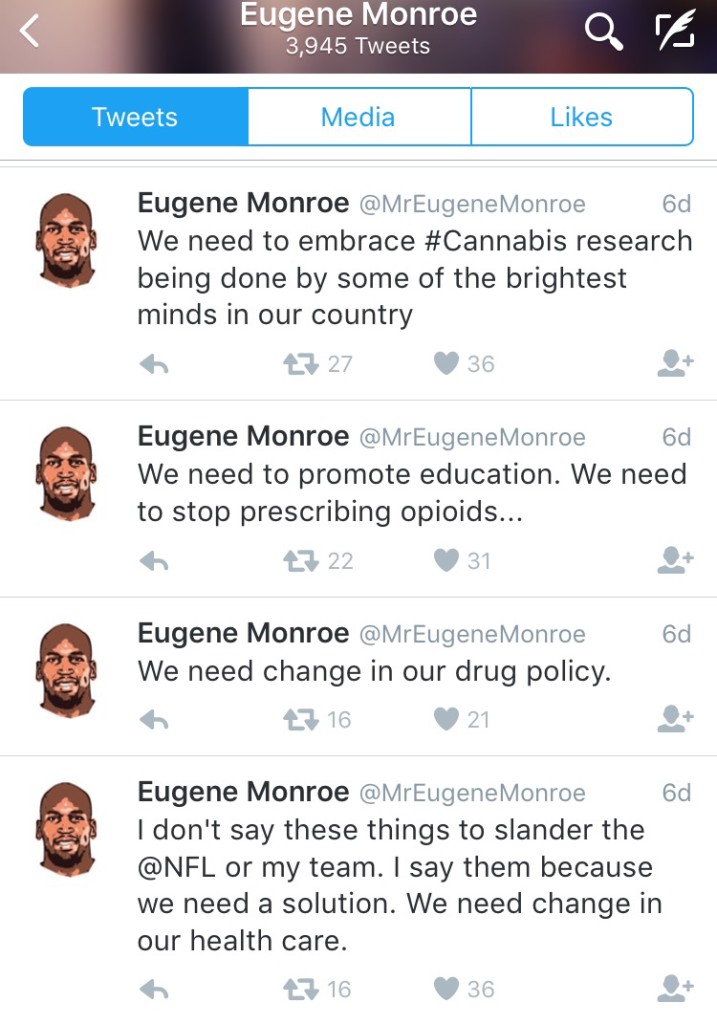 The Baltimore Ravens had no problem with domestic abuse. Remember, they kept Ray Rice even after initially viewing that horrifying video of him knocking out his then-fiancée in an elevator. But medical marijuana advocates? That is apparently a big problem for the Ravens and the NFL.
"The NFL relies heavily on opioids to get players back on the field as soon as possible, but studies have shown medical marijuana to be a much better solution," NFL player Eugene Monroe wrote in an essay titled "Getting off the T Train."
In a stupendous – or just stupid – turn of events Baltimore Ravens offensive tackle Eugene Monroe was released June 15, after he had publicly called on the NFL to let players use medical marijuana to treat injuries. "I can't say for sure whether or not my stance on medical cannabis was the reason the Ravens released me," Monroe said. "However, as I've said in the past, they have distanced themselves from me and made it clear that they do not support my advocacy."
A team spokesman declined to say whether Monroe's viewpoint on medical marijuana had been part of the reason.  Yet the Ravens wanted everyone to know the decision to trade Monroe was all about his injury history.  The timing of this announcement, and so-called rationale, is suspect.
In May, Monroe wrote a long piece for The Player's Tribune supporting marijuana instead of the powerful painkillers NFL teams offer their players. He has liberally discussed the issue on social media. The Ravens never supported him. The NFL and the NFL Players Association have a staunch policy prohibiting marijuana use despite the fact some players are asking them to reconsider it, arguing pot can be used for pain relief, and possibly as concussion prevention.  Explain it to me like I'm an intelligent 5-year-old: If marijuana is less addictive and has fewer deadly side effects than opioids and prescription painkillers and is a better pain management tool, why is it banned by the NFL?
Monroe's release is a cautionary tale: admitting to marijuana use could be career ending if you play in the NFL. Marijuana is currently a banned substance under the collectively bargained Substances of Abuse Policy and is a federally prohibited drug. Commissioner Roger Goodell has made his disapproval of medical marijuana use in the league clear.
However, evidence shows that cannabidiol (CBD), a cannabinoid, is effective to aid recovery from traumatic brain injuries. When it comes to pain relief, THC is the chemical ingredient that provides relief from pain. It has been found to reduce pain for patients with arthritis, and has anti-inflammatory properties. CBD could aid with concussion recovery and help prevent more long-term effects of brain injury. The reality is, more and more players are looking to marijuana. They are concerned about addiction and the potential for deadly overdose. "All over our country people are addicted, and that's happening in our locker rooms," Monroe illuminated.
There must be nothing lost in translation when it comes to our discussion about the importance of advocacy and marijuana. Advocacy marshals the necessary resources around an issue while increasing the power of people to make institutions, such as the NFL, more responsive to human needs. The idea is to expand the range of choices that players and the public in general can have when it comes to their health, wellbeing, and quality of life.