With recreational marijuana sales in Missouri beginning Friday, Feb. 3, dispensaries across the "Show Me State" are gearing up for what could be a busy weekend for the first ever sales of recreational, adult-use cannabis.  The timing is ideal as it's one week before the Kansas City Chiefs take on the Philadelphia Eagles in the Super Bowl.  Missouri is having a major marijuana and football moment. 
My affection for Missouri starts with (1) My family can be traced back to St. Joseph, Missouri as far back as the 1850s; (2) I graduated from the oldest high school west of the Mississippi, Central High School, as did my mother and grandmother; (3) I graduated from the University of Missouri-Columbia, which makes me a Mizzou Tiger; and (4) I am a graduate of the University of Missouri-Kansas City Law School, which kinda makes me a UMKC Kangaroo, a mascot invented for the school by none other than Walt Disney himself.
Historically known for many Civil War battles during the 19th century, the battle for recreational marijuana in Missouri is finally over as legalization takes effect.  The Missouri Department of Health and Senior Services has begun approving requests from marijuana dispensaries to convert their medicinal licenses to recreational licenses. 
Approximately 318 of the 322 medical marijuana licensed facilities in the state applied for comprehensive licenses.  It is very encouraging that nearly all of the state's medical marijuana dispensaries requested the comprehensive license that would allow for recreational sales.  It is the responsibility of each dispensary and recreational user to make sure they comply with the rules.  
Missourians, including businesses and consumers, are preparing for green gold sales in big ways.  Dispensaries are training extra staff and stocking up on extra products for what is anticipated to be bloomin' demand.  Over time, Missouri grew three separate urban centers in Kansas City, St. Louis, and Springfield, areas where history from other states shows the likely hot market for cannabis.  Everyone wins, as an influx of recreational marijuana customers equates to more jobs and many more employment opportunities for Missourians, and fewer arrests for people who partake.  (The law allows people with non-violent weed charges to have their records expunged.)
The rules for adult-use cannabis in the "Show Me State" are as follows:  Adult-use consumers must be 21 years or older and have a valid government issued ID.  Without a medical card, customers can purchase up to three ounces at a time and can be in possession of up to three ounces.  Adult-use purchases are taxed at 6% in addition to local taxes.  Medical marijuana card holders are allowed six ounces, taxed at 4%.  This is substantially less than you will find in most states, which can get as "high" as 25 percent, or even more, which should provide for both quality and value for consumers.
Note that the roll out of legal, adult-use marijuana in Missouri is not all sunshine and roses.  You cannot use weed at work and you can still get fired for being under the influence of it on the job.  (Stay tuned for a podcast with attorney Marcus Castillo discussing the intersection between employment law and cannabis rules.)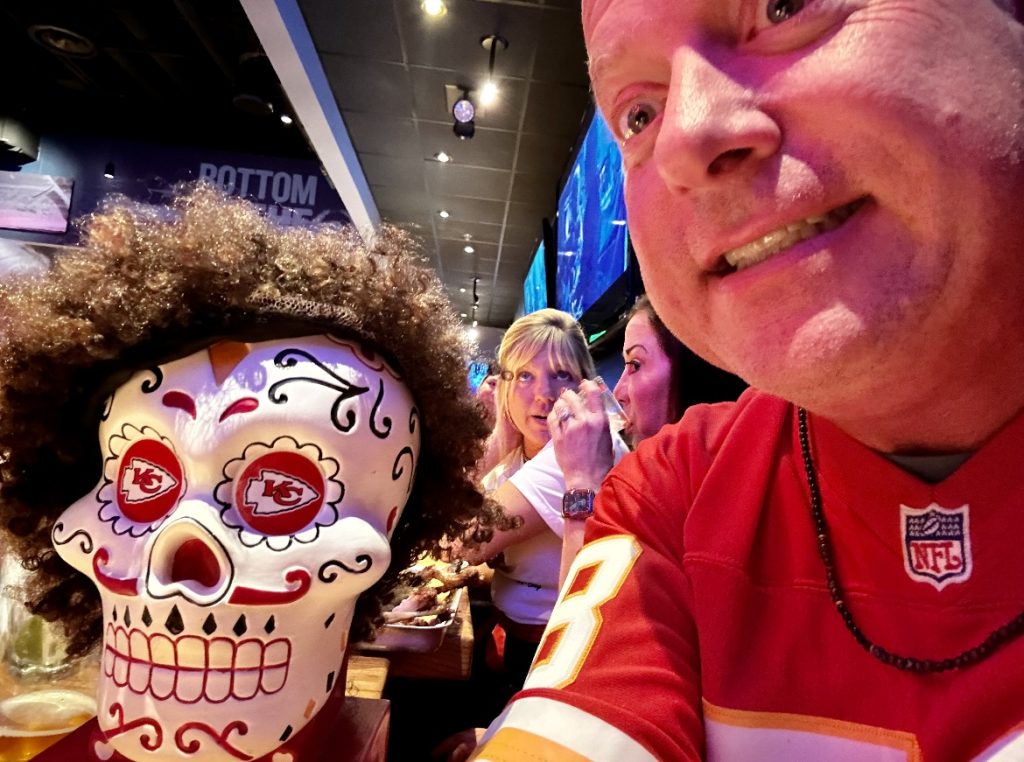 For those wanting to get lit to watch the Big Game on Sunday, Feb. 12 you can certainly do it safely and legally as you cheer on the Kansas City Chiefs.  The Chiefs are gearing up for Super Bowl LVII, and this highly-anticipated match-up between the best teams in both conferences is sure to be one for the record books.  
Football players in the NFL may now consume cannabis as much as they want between April and August but they must practice moderation during the game season. The NFL tests for marijuana during the game season, but the restrictions have loosened.
Another promising development on the cannabis and NFL front is the fact that the latter announced the award of $1 million in research funding to two teams of medical researchers at the University of California San Diego and University of Regina. The studies will investigate the effects of cannabinoids on pain management and neuroprotection from concussion in football players, respectively. Researchers aim to better understand and improve potential alternative pain management treatments for NFL players and to reduce the use of prescription medications including opioids in post-concussion syndrome athletes.
Go Chiefs Kingdom.