I've taken the "Pepsi Challenge" on California cannabis but nothing could be more challenging than to enter a marketplace like the metropolitan area surrounding Denver and its neighbor just up the road, Boulder.  As with the serious competition for the best burger, pizza, or local beer, the People's Republic of Boulder of which I am a proud member, requires that if you want to sell cannabis in this town, and survive, you better bring it.  
Since my first visit to the legal cannabis marketplace, I continue to find that Colorado sets the bar in quality and availability for one of the broadest spectra of flowers and associated derivatives as well as edibles.  I am glad to report that Boulder has as its newest, good value, high(er) quality cannabis shops, the newly-christened Marquis Cannabis.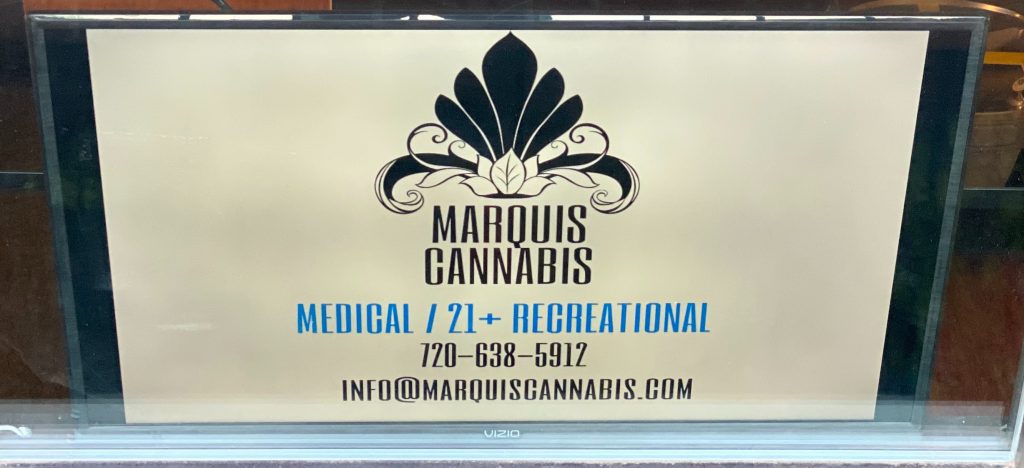 Good Value, High(er) Quality Flowers
Before we get to the issue of this strain versus that strain, let's talk about flower quality.  When I judge a cannabis plant as a consumer, I'm looking for proper density and color of nugs, the unique quality and aroma of a well-cured plant, and the perfection of a hand-trimmed cola.  Marquis Cannabis lands on all fours, providing a memorable experience between its balance of indica, sativa, and smartly curated hybrid crosses.
If I locate the right place in Colorado that produces a quality plant given all of the love and curing it requires, I will soon find a particular flower that I may be smoking for years to come.  For example, I always stop by L'Eagle Dispensary in Denver to pick up a half-ounce of Girl Scout Cookies and then head over to the Denver Kush Club to pick up African Queen. Over the past several years, I have tried most, if not all, of the flowers and these favorites always end up in my cart. 
At Marquis Cannabis, I have some early favorites.  In the "classic" category, I am a hybrid-kush smoker, so I thoroughly enjoyed Mob Boss, a strain commonly found at Cannabis Cup competitions. I got my kush on with a quarter of Maximus OG, which was a spot-on, end of the day kind of head-and-body high.  Marquis Cannabis also has a long list of great crosses.  For me, the real treat in this category has to be either the Taffie, which was a powerful head but not-too-stoney high, and most deliciously smelling Orange Sunshine, which could not be more tangy and fruity, both before and after the burn.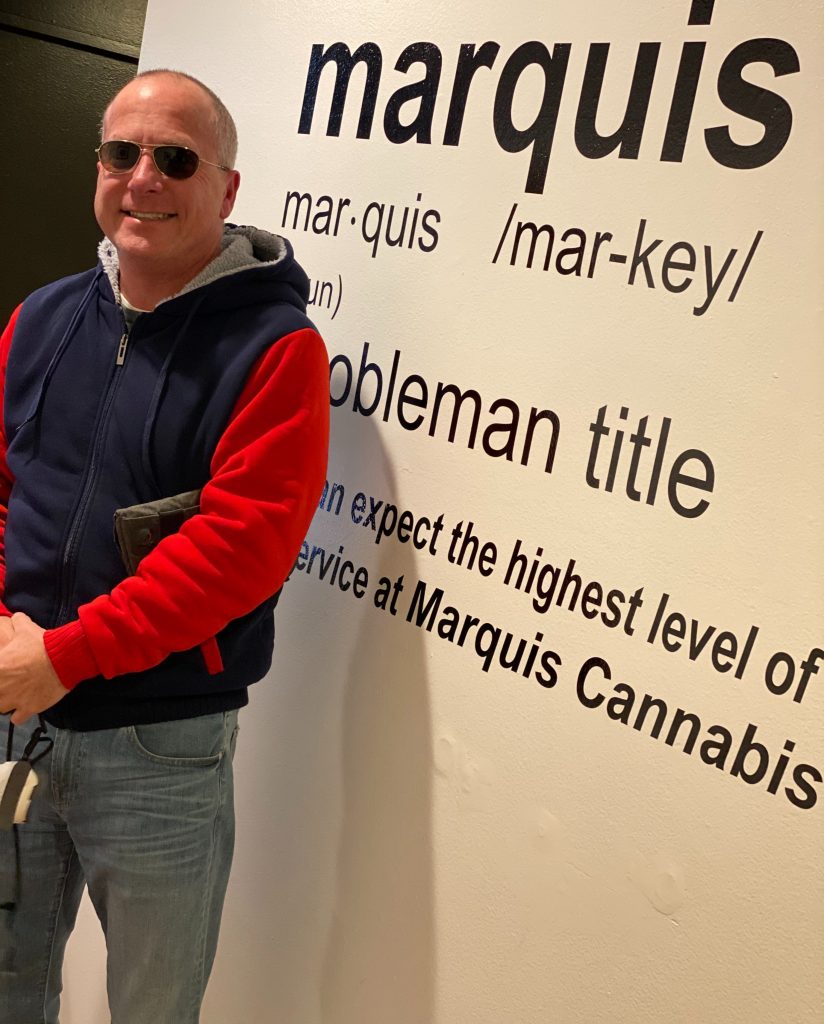 Location, Location, Location Helps
There are plenty of nearby dispensaries worth visiting, but at 19th & Broadway, Marquis Cannabis is but two blocks off the famed Pearl Street Mall, two blocks from the Boulder Dushanbe Teahouse, and only a few blocks from West End Tavern for some of the best BBQ and local brews this certifiably foodie town has to offer.  If you have time to spend in Boulder, pick one of these famous eateries, and head over to Marquis Cannabis.  Either start at CU Boulder, and head towards Pearl Street Mall, or start on the West End of Pearl, and head towards Broadway.  It's a surefire way to spice up your visit to Boulder, leaving with a full and satisfied belly, a tasty buzz, and a craft beer on your breath.
Last but certainly not least, the importance of a well-functioning website is key to the modern cannabis market.  The website for Marquis Cannabis has an easy-to-use, easy-to-follow interface with the online ordering service Dutchie, which may be essential in the COVID-19 era.  It allows you to make your selections, which will be waiting for you when you arrive.  The shop offers a broad selection to choose from for concentrates as well as edibles.
Travel, taste, and enjoy it all safely and responsibly.