As our knowledge base grows regarding the full scope of opportunities for CBD in our medical and recreational use of cannabis, there is no faster growing market sector than products available for man's (and woman's) best friend.  Our pets can greatly benefit from the comfort and medicine cannabis provides.
Today, we catch up with Chelsea Gennings, the Vice President and Co-Founder of Pet Releaf, a leader in the pet industry's efforts to make CBD and other cannabinoids available for our family members of fur.
Pet Releaf is the first pet-exclusive CBD company to earn U.S. Hemp Authority (USHA) Certification. The company has also taken a leadership role in the hemp industry by being the only pet CBD company that is part of the U.S. Hemp Roundtable's Board of Directors, which funded the USHA certification program. This is to ensure only the best quality products are being offered to our pets.
Pet Releaf has created human grade products with proven positive results for animals through using the entire hemp plant, extracting the oil using a supercritical CO2 method, and making products using all-natural and organic ingredients. The impact that organic CBD pet products can have on pets includes: increasing the quality of life, decreasing stress in pets, and reducing joint pain.
In my interview with Chelsea Gennings below, go behind-the-scenes of Pet Releaf, whose core principles include creating and making truly healthy CBD pet products with honesty and integrity.
What makes Pet Releaf's products unique?
Pet Releaf's biggest differentiator and the reason why we are the industry leaders is because we produce hemp products specifically for pets and with them in mind. Our hemp is grown and extracted in a way that is the safest for our furry friends and we are compliant with the US Hemp Authority. Not only do we grow our own strain of hemp with extremely low levels of THC, but with every step of our manufacturing process we take extreme care and take extra steps to ensure our pets safety.
What inspired Pet Releaf's founders? 
Unfortunately, every pet parent has to watch their furry friends go through the end stages of his or her life and that's what planted the seed for us. Our family dog Mattie was suffering from arthritis towards the end of her life and it was heart-wrenching to watch her endure that pain. What was most upsetting was that there were no alternatives to the pharmaceuticals the vets were offering. When we had to see her suffer like that, the light bulb went off and we knew we had to find a better way. We set out on a mission to change what healthy means for pets.
What is something we would be surprised to learn about Pet Releaf? 
We snack on our Edibites and Boom Bars throughout the office!
What are some new products you're excited about?
We have several new product lines coming in early 2020 to serve the growing needs of pet parents and the broader industry. We just unveiled two new products: our Boom Bars and our special edition Barking Dog Collection Edibites®.
Boom Bars are a protein bar for dogs. The hemp protein supplement bars are an excellent source of hemp seed protein and include all nine essential amino acids. Like every Pet Releaf product, Boom Bars were formulated to serve a specific purpose. From active puppies to senior dogs, there is a Boom Bar option that suits every dog's unique needs. Pet Releaf Boom Bars are human-grade, all-natural and 100% safe.
The special edition Barking Dog collection of Edibites is an all-natural, full-spectrum daily CBD supplement for dogs. The collection is dedicated to American artist Keith Haring and developed in partnership with Plant Alchemy, whose premium botanical products are crafted to celebrate the world's diversity of plants for health and wellness. Pet Releaf and Plant Alchemy will use the Barking Dog Collection to raise awareness for animal rescue and to sponsor events that assist animal rescue shelters around the country in support of their mission.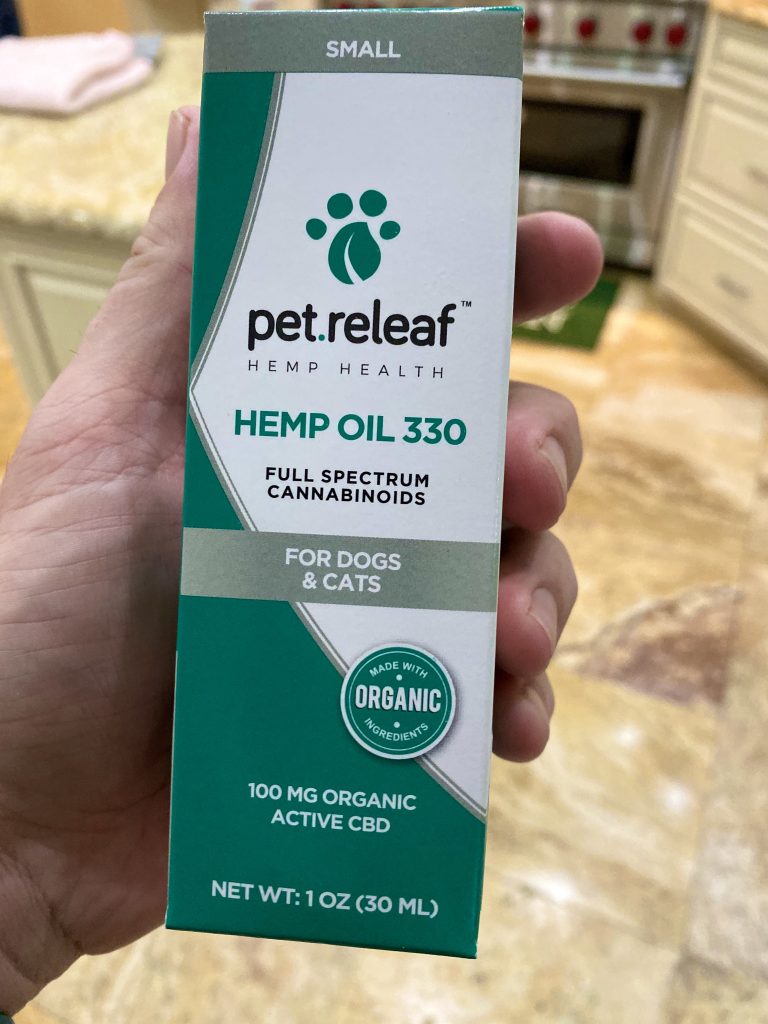 What do you hope people learn about the importance of alternative wellness and health products for pets? 
People are becoming more open to alternative medicines for themselves and ultimately for their pets, so the fact that people are even starting to explore alternative options is a great sign! I do caution people to do their research when it comes to any supplement product (for themselves or their pets), because just like food companies, supplement companies may not always be truthful with what's in their products and where it's coming from. I urge people to do their research .
What are some great holiday gifts for pets from Pet Releaf?
The Keith Haring Edibetes and the Boom Bars would make great holiday gifts for pets. Also, 10-pack vegan hemp oil capsules will make great stocking stuffers. Of course, our signature hemp oils make a great gift for dogs and cats.
Any misconceptions you'd like to clear up about the role hemp or CBD plays in a pet's health and well-being? 
The biggest misconception we're seeing in the pet world regarding hemp products is that THC free is necessary to ensure the safety for dogs and cats. This is simply not true. Yes, THC levels need to be extremely low and almost non detectable, but having a completely true THC product prohibits the entourage effect from taking place and ultimately equals a less effective product. Growing from a true hemp strain would never get a dog or cat high, it's when people toy around with growing marijuana hemp hybrids that the risk of having a higher THC final product is possible. That is why our proprietary strain of hemp (PR-33) is a true hemp strain, to ensure we are never risking those THC levels being too high.
Hemp is one of nature's best sources of plant-based protein. Unlike soy, hemp does not contain enzyme inhibitors and phytates, so the full range of 20 amino acids, including the 9 essential amino acids are easily absorbed into the body. The hemp plant also contains significant amounts of essential fatty acids – Omega 3 and Omega 6 – in a 1:4 ratio which is touted by major health organizations as the magic ratio for healthy benefits. Hemp also contains the Super Omegas – Stearidonic Acid (SDA) and Gamma Linolenic Acid (GLA).
My dogs have greatly benefited from Pet Releaf products. They would become very agitated and upset when it would thunder outside, which is a common occurrence in Tampa, Florida. With Pet Releaf products, they can live fuller, healthier, and less nervous lives. Do you have any personal stories or anecdotes about Pet Releaf products you'd like to share? 
We have countless stories that come to our attention constantly about pets who are able to live full, healthy and plentiful lives thanks to our products. One story came from Callie's parent. Callie is a chronic itcher, and over the summer she scratched herself raw under her neck and on her chest. Her owner tried putting antibiotic ointment on it, but she was licking it off and it wasn't good for her, so they tried our Canna Care, which has a nice menthol scent so she smelled really good, and it allowed her to get some relief from the pain while she healed.
Another recent story came from 14-year-old Ariel's parent, who was struggling as she saw Ariel age. She knew it was her duty to help her age gracefully and keep her as comfortable and happy as possible. In conjunction with pain medication, anti-inflammatory medication and joint supplements, Ariel's mom used Hemp Oil and Edibites chews with her. The chews are pizza flavor (if you know Ariel, then you know how much she loves pizza) and are easy to bring along on their hikes and walks. She was able to stay active and be relatively pain free her remaining years.
Personally, I have an 8-year-old Chihuahua mix named Pepper and Chihuahuas are known for being anxious. Well, Pepper used to hate the car. She would shake constantly even when she was in my lap no matter what I did. When we started the company and I started giving her CBD, it was night and day. She may still not like the car but when I give her a few Edibites about 30 minutes before a car ride she's no longer shaking. The physical impact of that anxiety is taken down from a level 8 to a level 2 when I give her Pet Releaf.